HEATING REPAIRS in South Jersey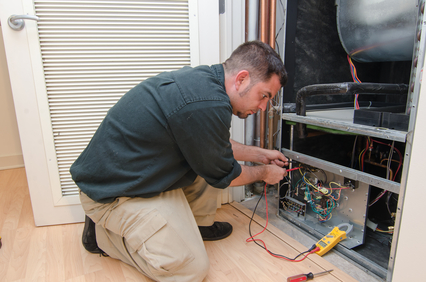 Keeping a comfortable home is important, especially during the harsh South New Jersey winters. With an increase in chances for record lows, maintaining the health of your home heating system is more important now than ever before. A malfunctioning or poorly maintained heater is much more likely to break down or need replacement if the problems aren't addressed immediately, so anytime you think there might be something wrong with your heater, you should have it looked at by a professional Toms River heating contractor.
Getting the service of an experienced heating repair contractor doesn't have to be a difficult chore in Forked River. Instead of fretting over what to do, call on the expert staff at South Jersey Heating and Cooling. With years of industry experience, we have what it takes to provide you with the swift and sure solution that you need, so that you and your family will be able to relax in comfort once more.
The Importance of Heating Repairs
There are numerous benefits to having your heater repaired. You don't actually have to wait for your heater to stop working before you call on a heating repair technician, in fact, calling so for preventative maintenance when something isn't right is one of the wisest choices that you can make. Some of the most notable reasons you should call on the repair experts at South Jersey Heating and Cooling whenever you have a problem include:
Save Money: Replacing a heater is an expensive and often unexpected cost that more likely than not is going to end up occurring during the coldest time of the year. This means having to have emergency repair and replacement services performed which will cost much more than standard repair and maintenance services.

Lower Heating Costs: A well-functioning heater will save you money. When everything is working smoothly you should be able to enjoy lower heating and cooling costs than you would otherwise. As things go wrong and your heater becomes less efficient, likewise you can expect those monthly bills to increase.

Safety: If there is something wrong with your furnace or heater, you could be putting your family in danger. Not only is a malfunctioning heater a potential fire hazard, but you could be exposing yourself to harmful carbon monoxide in the process.

Clean Air: If your heater isn't working properly then the air quality in your home or business is also going to be on the decline. Mold, mildew, and other airborne allergens and contaminants can work their way into your ducts if things are not being properly heated.
Recent Articles
Is your HVAC System Storm Ready? Take These Steps Now

Our East Coast clients must constantly be ready for whatever Mother Nature brings. Here in New Jersey, property managers must prepare for everything from hurricanes to snowstorms. While you can never be quite sure just when a storm will hit, there are some things you can do to be ready. Here are a few hazards…

Read More

How To Get The Most From Your Heating System In South Jersey

If you're like most of us here in the South Jersey area, keeping up with your heating system is something you know you have to do in order to ensure it works well for you and your family during our cold winters. There are other things you can do in your business that will assist your…

Read More

Customer Reviews
South Jersey Heating and Cooling appreciates your feedback. Please give us more time to collect your reviews and they will be displayed below.
---
If you are looking for a Toms River heating repair specialist, please give us a call at or complete our online request form.