South Jersey Commercial Humidifiers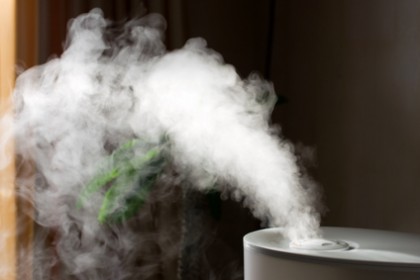 Creating a healthy and comfortable business environment is a must, and sometimes the best way to do that during the dry winters is by installing a humidifier in your South Jersey business. Commercial humidifiers have a great number of benefits and can help greatly improve the health of you and your family. If you think a whole-building humidifier might be the right choice for you, call on the experienced Southern NJ indoor air quality team at South Jersey Heating and Cooling for consultation and installation.
The Reasons You Need a Humidifier
There are plenty of good reasons to add a humidifier to your New Jersey business. A whole building humidifier is often the right choice if you've been noticing dryer air inside during the winter months, or if there has been an increase in the amount of illness in your company. You can greatly improve the quality of your business's air and reduce health risks by installing a new humidifier.
Skin Quality: Dry air creates dry cracking skin, and the winter is the worst season for this. Including a humidifier in your business will do wonders for your skin care and promote good hygiene and health.
Sinuses: If you like many Forked River residents suffer severe sinus issues during the winter; a humidifier can make all the difference. Sinus problems are often caused by the dry air, which can result in serious nosebleeds and irritation.
A Healthy Business: A humidifier can create a better and healthier environment. Humidifiers will better filter bacteria and viruses, helping to improve your company health.
A Warm Business: By creating humidity inside of your business it becomes easier to heat. A humidifier will help you establish a much more comfortable company environment that everyone can enjoy.
Snoring: If your employees or coworkers suffer from snoring during the winter, this is often a nasal related issue that is caused by dry air. A humidifier can help eliminate this, allowing everyone to rest easy without this noise.
Recent Articles
Energy Audits For Commercial HVAC Systems In Southern NJ

The expense to run a commercial HVAC system is a number one concern for any South Jersey business owner. Not only does the HVAC equipment need to run as efficiently as possible, the building itself needs to hold all that treated air in where it belongs. When there is heat transference going on, the…

Read More

Prevent Costly Repairs with these Monthly HVAC Maintenance Tips

HVAC repairs can quickly eat into your monthly budget. Sudden, unexpected repairs might even determine whether your business turns a profit. This monthly maintenance checklist will help you prevent expensive repairs, and there's no better time to implement it than in the fall. Trim Trees and Shrubbery During summer, having some shade for your A/C…

Read More

Customer Reviews
South Jersey Heating and Cooling appreciates your feedback. Please give us more time to collect your reviews and they will be displayed below.
---
If you are in need of a South Jersey whole building humidifier, please do not hesitate to call us at or complete our online request form.