AIR CONDITIONING REPAIRS in Toms River, NJ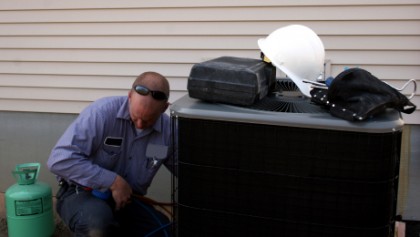 When something goes wrong with your air conditioner, you need to have it up in working condition before that sweltering summer heat sets in. If you think there might be an issue with your air conditioning unit, the best answer is to have it tended to by a licensed and certified air conditioning repair technician. Finding the service you need is never difficult when the professional team at South Jersey Heating and Cooling are only a phone call away.
With over 18 years of customer service experience, you cannot go wrong in turning to the Toms River air conditioning experts at South Jersey Heating and Cooling. We are well versed in the needs of our Forked River customers, and will always make certain that you get the best work for the most fair and competitive pricing. Keep yourself in comfort by calling on South Jersey Heating and Cooling.
Signs You Might Need AC Repair
Airflow: The air flow will be different depending on your air conditioning unit, and as your system gets older this will no doubt change as well. Sometimes if the flow is impeded this could be a result of your filter being blocked, but this can also be a sign that there are more serious problems in place. If the air flow of your AC unit seems impeded, call on the repair professionals at South Jersey Heating and Cooling to have that sorted right away.

Noise: Air conditioning runs quietly, but if you have noticed a definite increase in the noise coming from your unit while it runs or starts, then there is indeed a problem taking place. This is a sign that you have to have your air conditioner serviced and the sooner is often the better in these kinds of situations. You do not want to wait for your air conditioner to fail, make certain you have repairs performed immediately.

Unreliable Cooling: If your air conditioner just can't seem to keep up with your cooling demands and it is much warmer inside than it should be, you need to have your AC serviced. Getting your air conditioner back in working shape is a must, so call on South Jersey Heating and Cooling to have it serviced quickly and effectively.
Recent Articles
Should You Schedule an Air Duct Cleaning for Your Commercial Property?

South Jersey business owners know the importance of properly functioning heating and cooling systems because inefficient HVAC units can drive up energy costs. Air duct cleaning performed by a trusted cooling and heating contractor is one way to increase the effectiveness of your commercial building's HVAC system. The cost of air duct cleaning services depends…

Read More

Guide to Choosing the Right Commercial HVAC Service Contract

When shopping for a commercial HVAC service contract, you'll likely notice that prices fluctuate a great deal. How do you know which one is the best value? Price alone should not be a determining factor, as the type of contract and the service it provides is important as well. Here is a quick guide to…

Read More

Customer Reviews
South Jersey Heating and Cooling appreciates your feedback. Please give us more time to collect your reviews and they will be displayed below.
---
If you are in need of air conditioning repair in South Jersey, please give us a call at or complete our online request form.