Is your HVAC System Storm Ready? Take These Steps Now
---
---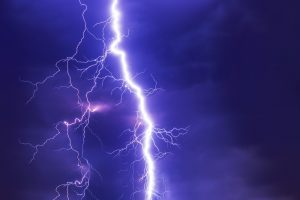 Our East Coast clients must constantly be ready for whatever Mother Nature brings. Here in New Jersey, property managers must prepare for everything from hurricanes to snowstorms. While you can never be quite sure just when a storm will hit, there are some things you can do to be ready. Here are a few hazards we recommend safeguarding against, as well as some actions that will protect you.
Common Hazards
Water and Flood Damage
Extreme weather conditions can bring an excessive amount of water, which most systems are ill equipped to handle. In many cases, standing water can submerge even rooftop units, resulting in significant damage or creating a total loss.
Hail
A serious hailstorm can do more than just create superficial damage. Very large hailstones could also damage delicate electrical components or even the fan blades.
Lightning
Lightning strikes the earth approximately 100 times per second. This amounts to more than 8 million lightning strikes each year. HVAC units are especially vulnerable because their electrical components are lightning magnets. Lightning damage can cause electrical malfunctions that in turn would make your equipment unsafe to operate.
Wind Damage
Falling limbs and flying debris can easily become lodged in your system, causing your compressor or fan blades to warp. Internal debris might also create punctures in wearable parts such as belts and hoses.
Preparing for Inclement Weather
Don't get caught off guard by a sudden storm. Take these steps ahead of time to safeguard your equipment and ensure the continuity of your business.
Trim trees and vegetation. Have your maintenance team prune trees, shrubs, and other growth to reduce the odds of vegetation becoming lodged in your unit. Doing so will also promote good airflow and help your system operate more efficiently.
Shut off your system. When a storm is imminent, disconnect the unit from its power source, or shut off its circuit breaker. This will prevent electrical surges, while also reducing the odds of a lightning strike.
Use a surge protector. There may be times when turning off your system would be detrimental to your employees' health. In those instances, we highly recommend using a surge protector to help safeguard against power surges.
Provide cover. An outdoor cover will protect your unit against flying debris, hail stones, and other hazards. At the same time, it will keep out mud, leaves, dirt, and other debris. A custom cover is preferred; however, a tarp or piece of heavy plastic will work in a pinch.
Inspect your system. As soon as the storm passes, contact us so that we can provide a full inspection of your HVAC system and its components. Remember that not all storm damage is easily seen by just looking it over. Having an inspection and making timely repairs will ensure you do not cause further damage.
The Importance of Maintenance
Regular maintenance is the best way to ensure your system is ready for any type of weather. Units that are maintained on a regular basis are better equipped to handle even the roughest of storms. Not only that, but a well-maintained system will also cost less to operate, and requires fewer repairs over its lifetime. Having regular maintenance is more affordable than you think, and will help prevent the costly downtime that is often associated with storm repairs.
Here When you Need Us
Don't wait until the storms clouds roll to reach out to us. Make a preparedness plan for your business now and ensure we are a part of it. We can help you get ready for whatever disaster may arise in the future. Please contact us today to schedule an appointment.