Why Your NJ Commercial Air Conditioning Equipment Needs Servicing
---
---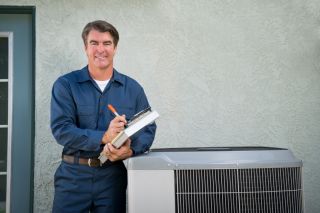 In any New Jersey commercial building, the air and temperature control is vital for the convenience of customers, staff, and management. Humans need to stay cool, and so does your expensive electronic equipment. Having your air conditioning go down at a most inconvenient time can cost the business revenue. This is something no business owner should have to deal with on their own. That's why commercial air conditioning services like ours exist.
It's hard to imagine any building of today without HVAC equipment, especially in a commercial setting. The installation of heating and air conditioning equipment is a must for your business. Although a new installation is meant to last for years, there are things you can do to ensure the longevity of the equipment whether it's new or not.
Avoid Early Air Conditioner Replacement With Maintenance
No one wants to have to replace their heating and air conditioning equipment after half a decade or so. But unless the equipment is maintained regularly, the environment and idle time could cause problems. With proper maintenance, the unit will last for as long as it should and you'll have the best energy efficiency from it as well.
In the New Jersey area, the humid climate plays a huge role in how long your air conditioner lasts. When air conditioning systems have to run in this environment throughout a season and then sit idle for months on end, they will break down quicker.
Dirt is affected by moisture, making into a sticky grime that builds up on your HVAC equipment. During the year, your air conditioning and heating system will accumulate dust and dirt. Grime build up on your air conditioning parts means sure death unless you have your system cleaned and maintained regularly.
Schedule Timely Repairs For Your HVAC Equipment
Anytime a machine is forced to run in a weakened state, it's more likely to permanently fail. Just think of how your automobile functions. If there's a hose with a hole or one part of the motor isn't turning, the entire engine can throw a rod and have to be replaced. This is the same for any machine including the air conditioning equipment.
Problems can arise when the equipment sits idle without being used for many months. Your air conditioner is built to run, not sit. Just as an old car won't start after sitting for months on end, the air conditioning equipment can have the same problem. With a seasonal tune up performed just before the warm season, the HVAC technician can quickly spot problems and help you fix them before you actually need the air conditioner for your business.
If you notice any of the following, call for air conditioning repairs as soon as possible:
Strange or loud noises
Strange smells
Tepid air instead of cool air
Hot zones (spots where the air is warmer)
Sounds like it's running but no air coming from vents
Moisture or wetness near the air conditioner
A/C runs constantly but won't cool the air
Commercial Air Conditioning Tune Ups
HVAC industry professionals know that around 62% of calls for emergency heating and air services were due to problems that could have been taken care of during regular maintenance. But since the owner neglected the unit, the issues only got worse, eventually leading to bigger problems. That's why South Jersey Heating and Cooling has developed maintenance plans for our commercial customers. We can take care of all your air conditioning and heating equipment with our regular maintenance services.
Any company who performs your air conditioning and heating maintenance should do the following minimum tasks which are important in ensuring your system runs efficiently. If you're looking for great HVAC services which have you covered no matter what you need, call on our professional technicians at South Jersey Heating and Cooling today!
Evaporator and condenser coil cleaning
Burner cleaning
Blower wheel cleaning
Check & test thermostats
Tighten all electrical connections
Lubricate parts that move
Check system controls
Check & inspect condensate drain
Check refrigerant levels
Clean and adjust blower components
Check all gas or oil systems
Test for gas leaks
Test for back drafts
Inspect, clean, or change air filters
If you have questions about Air Conditioning service in New Jersey, please call South Jersey Heating and Cooling at 800-792-2435 or fill out our online request form.