Learning a Trade is Now More Important than Ever
---
---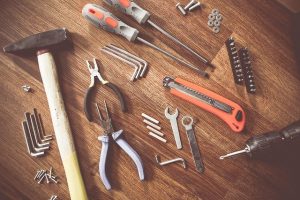 Forbes reports that student loan debt has reached an all-time high of $1.6 trillion. In addition, more than 800,000 Americans have personal student loan debt in excess of $200,000. Unfortunately, many of those saddled with debt are still unable to find gainful employment. That's a struggle that can often be avoided by choosing trade school instead. Aside from lower tuition, are there any other benefits to learning a trade? Here are just a few we would like to mention.
#1. Start Earning Sooner
A Bachelor's degree normally involves four years of study. However, USA Today reported on a recent study, which shows that many students are now taking as long as six years to complete their education. On the other hand, learning a trade can take only two years or less, depending upon your specialty. And since some programs have paid apprenticeship programs, it's possible to earn money even while you are attending.
#2. In-Demand Jobs
Trade schools prepare you for in-demand jobs such as heating and cooling. According to the Bureau of Labor Statistics (BLS), demand for heating, air conditioning, and refrigeration specialists is expected to increase by 13% between 2018 and 2028. This is much faster than average for all occupations. Other trades such as plumbing, electrical, and bricklaying all have similar outlooks, as well.
#3. Lucrative Salaries
One of the main reasons people attend college is to earn more money. However, as we have already pointed out, getting a degree does not always equate to a high-paying career. On the other hand, those who graduate from trade school are more likely to earn high salaries. You'll also be able to keep more of your wages, since you will not have as much going toward your student loans.
#4. Hands-On Training
Let's face it-classroom training alone does little to prepare you for life after college. The only way to truly know what a particular career field is like is to experience it firsthand. Learning a trade allows you to gain practical, hands-on experience that will better prepare you for the real world. As such, you will be ready to hit the ground running once you graduate.
#5. Job Security
Year in and year out, the most in-demand jobs are those offered by trade schools. The HVAC trade is a good example of this, as people will always have a need for heating and cooling. There's little chance that your job will eventually become obsolete or be phased out by advanced technology. That's a big reason why many tradespeople remain in their chosen occupations for a lifetime.
#6. Providing a Valuable Service
When you learn a trade, you will be providing a valuable service to others. That's especially true with heating and air conditioning because people want to feel comfortable in the spaces they spend most of their time in. Consequently, you can feel good about the job you perform every day.
What We Have Learned from the Pandemic
Here at South Jersey Heating and Cooling, one thing the COVID-19 pandemic has made obvious is who is an essential worker and who is not. While others were shutting down, we were able to remain operational because HVAC is an essential service. Although we can never be sure if or when another pandemic may appear, what we do know is that we will likely continue working right on through it.
Are you ready to take the next step and become an HVAC technician? We are always looking for highly-motivated apprentices to join our team. Please contact us today to learn more about an exciting career in commercial heating and cooling. Or let us know if you are a property or facility manager in need of our HVAC services.