Ensure your Commercial HVAC is Ready for Hurricane Season
---
---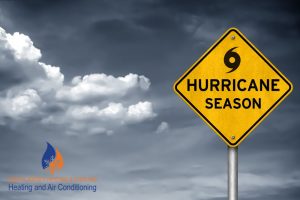 The National Hurricane Center tracked nine hurricanes, five tropical storms, and two tropical depressions in 2022. With hurricane season upon us once again, it's time to ensure your commercial heating and cooling system is ready. Take these steps now to safeguard this important piece of equipment.
Inspect and Clear Drains
Flooding is a major concern with any hurricane. If your drains are clogged, standing water makes you more susceptible to moisture damage. As such, ensuring your drains are flowing freely beforehand is necessary. Look for a small pipe extending from the side of your building. When your A/C is running, you should notice a slow, steady drip coming from it.
With rooftop units, you'll also need to ensure the roof drains operate properly. Depending upon its configuration, you may have several drains within the surface of your roof or rectangular outlets along the edge that act as a type of gutter. Remove leaves and debris from them so that water does not pool and cause damage to your roof or HVAC.
Gather Materials
Outdoor units are designed to withstand harsh weather. That doesn't mean they can't suffer hail or wind damage during a hurricane. Covering your system will protect against hailstones, flying debris, and other hazards. Gather the following materials and then set them aside in a designated area where they'll be easy to access when needed:
Large tarps, or a roll of 6 mil or higher plastic sheeting.
Bungee cords or tie-down straps.You'll need several of these in varying sizes, enough to wrap around your unit at least 2-3 times.
Duct tape for securing any edges that are loose after wrapping.
Make a Plan
Develop a plan of action that you can put in place whenever a major storm is imminent. Some things to include in your action plan are:
Designating someone to turn off the power to your HVAC right before you evacuate. This will prevent damage from lightning or electrical surges.
Removing anything that could be a projectile from the immediate area. This includes tools, lawn equipment, outdoor break area furniture, etc.
Covering all your units with the tarps and/or plastic you have set aside. Do this ONLY after you have turned off power to your A/C. You could cause more damage by operating your system while it is covered.
Making sure your employees know they are NOT to restart the A/C until authorized to do so by your maintenance team.
What if you have sensitive equipment that must remain in a temperature-controlled environment? In that case, you may need to set the thermostat back a few degrees right before the hurricane hits. Then seal your building as tightly as possible so it will remain cool until after the storm is over with.
Inspect Your System
Once the storm has passed, inspect your A/C units thoroughly for:
Limb or debris damage
Frayed wires or panels, which might indicate lightning damage
Standing water inside your unit
Mold or mildew
If you notice any of these problems, do not restart your system without calling us first.
Here at South Jersey Heating and Cooling, we are very familiar with hurricane storm damage and will ensure your system is up and running safely.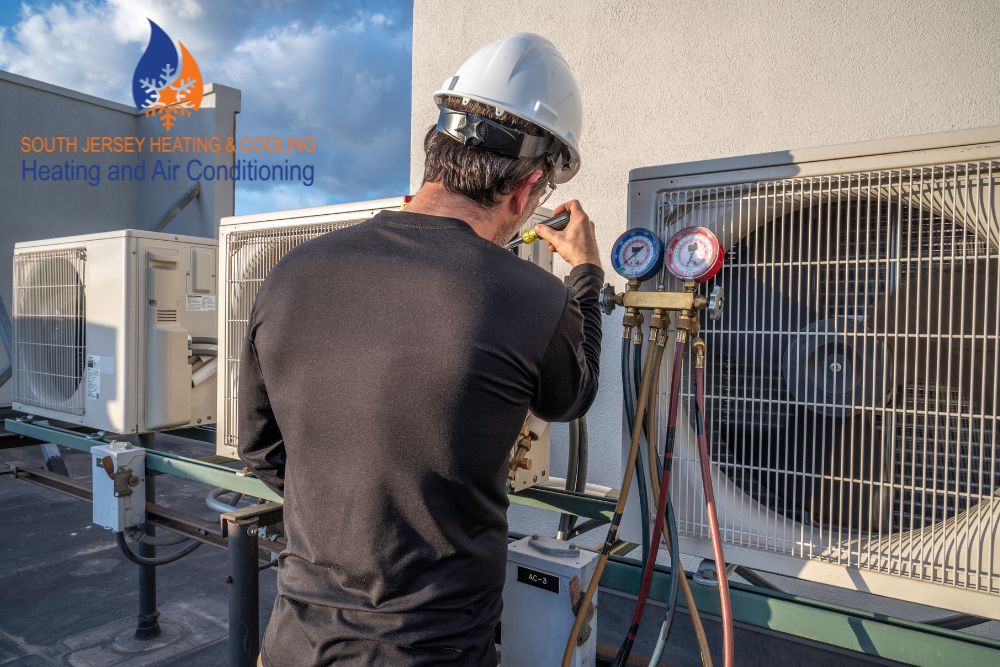 Make Maintenance a Part of Your Hurricane Plan
Well-tuned equipment is more likely to withstand harsh weather. Plus, it's easier to identify storm damage when you have documentation from a recent inspection. And keeping up with maintenance also provides greater comfort and energy efficiency during normal weather.
Don't wait until a storm is headed our way to contact us. Call South Jersey Heating and Cooling today to schedule your appointment.