Southern NJ Commercial Duct Cleaning COmpany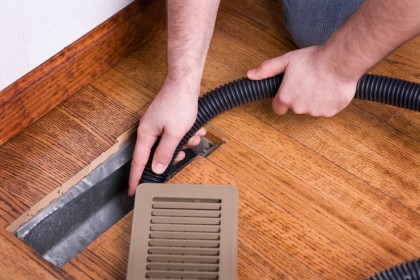 Maintaining a healthy and comfortable South Jersey business is a responsibility for any company owner, and that begins with keeping your buildings ducts clean. Clean ducts will promote a healthy work environment and keep your air clean and breathable. When it comes to duct cleaning, don't settle for anything less than the best by calling on South Jersey Heating & Cooling, your Southern NJ Duct Cleaning Company.
At South Jersey Heating and Cooling our indoor air quality specialists will provide you with affordable results and fast friendly service that is always attentive to your individual needs. Make certain you get the work by the best duct cleaning professionals in Southern NJ make sure you get the work done by South Jersey Heating and Cooling.
Why You want South Jersey Heating and Cooling to Clean Your Ducts
With over 18 years of service experience and as a BBB award winning company, you know you are getting the service of industry professionals that you can trust when you call on South Jersey Heating and Cooling. Each and every one of our contractors is wholly committed to providing the very best in customer service excellence and preserving our legacy of quality. We are well versed with the duct cleaning needs of the Southern NJ area, and will be able to supply you with the results you desire, so you can keep your business in good health.
Indoor Air Quality: The number 1 reason to have your ducts cleaned is to preserve the air quality in your business. Healthy, breathable air is a must, and you can get the most out of your air quality by turning to the team at South Jersey Heating and Cooling. If anyone in your business has a breathing condition such as asthma, keeping your ducts clean to prevent complications is a necessary routine step.
Save Energy: Clean ducts mean more efficient heating and cooling. By routinely cleaning your ducts you will be able to enjoy a climate controlled building without a spike in your bills. Dirty ducts will no doubt result in your bills going up!
Better Performance: You can improve the performance of your commercial HVAC system with clean ducts, which will put less stress on your heating and cooling. This is necessary as it improve the lifespan of your HVAC and makes the need for repair services much less likely.
Recent Articles
Why Your NJ Commercial Air Conditioning Equipment Needs Servicing

In any New Jersey commercial building, the air and temperature control is vital for the convenience of customers, staff, and management. Humans need to stay cool, and so does your expensive electronic equipment. Having your air conditioning go down at a most inconvenient time can cost the business revenue. This is something no business owner…

Read More

Installing A Commercial Humidifier For Increased Productivity

Every business owner knows that employee sick time is costly for production. With just one employee out sick for the day, you lose eight hours of production time. The lost production has to be compensated for by either hiring a temporary replacement or increasing the workload of other employees. You can save employee downtime by…

Read More

Customer Reviews
---
Everyone at SJHC has been great to our family over the last 12 years. As we are moving, we will make sure the new owner of our home knows that you have been giving us excellent service on our Maintenance and Service Agreements . Best of luck to everyone at SJHC.

---



If you are looking for a Southern NJ duct cleaning company, please give us a call at 800-792-2435 or complete our online request form.