AIR CLEANERS in Southern NJ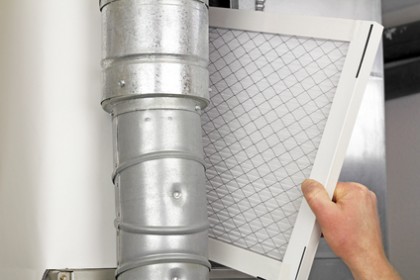 Does anyone in your New Jersey business happen to have a breathing complication? If so, maintaining proper air quality is a must, and if you suspect that there might be contaminants in the air in your business, it is your responsibility to ensure that you are breathing in safe and healthy air. Determining the quality of your air can be tricky, so schedule a visit from the air quality professionals at South Jersey Heating and Cooling.
At South Jersey Heating and Cooling we can assess your South Jersey businesses indoor air quality and determine if steps need to be taken to make improvements. Air cleaners are one of the easiest ways to make a noticeable difference in the quality of your breathable air and remove potentially harmful contaminants that you might otherwise be breathing. With properly installed air cleaners you can eliminate 99% of the particulates that might otherwise be causing unnoticed harm to your respiratory system.
Signs You Might Need an Air Cleaner
Strange Odors: IF there are peculiar odors in your building this can be a result of poor air filtration. Air cleaners will often address these issues and return your air to a healthy and breathable state.
Sickness: If people in your business have been getting increasingly ill, your air quality might be responsible. Have the quality of your home air assessed and determine if an air cleaner is the right solution.
Breathing Complications: Have you noticed a shortness of breath, headaches, or other issues related to your breathing? This could be the product of allergens, particulates, and harmful irritants in your business air. With proper air filtration you can eliminate most of these problems, allowing you to breathe comfortably again.
The South Jersey Heating and Cooling Air Quality Advantage
With over 18 years of experience serving the needs of the Southern NJ area, our BBB Award Winning business has developed a strong reputation for offering the very best quality work around. We cannot be beat when it comes to workmanship quality coupled with knowledgeable staff, and friendly service. For the very best in air quality commercial HVAC care, you cannot go wrong in turning to the professional team at South Jersey Heating and Cooling.
Recent Articles
South Jersey Furnace Buying Guide: 5 Tips

In South Jersey the winters can get unbearably cold. Your furnace is not just a luxury. It's something you depend on to get you and your employees enjoy through the harsh winter months. so investing the right furnace for your company is absolutely vital. With so many choices and features on the the market today, it's hard…

Read More

Energy Audits For Commercial HVAC Systems In Southern NJ

The expense to run a commercial HVAC system is a number one concern for any South Jersey business owner. Not only does the HVAC equipment need to run as efficiently as possible, the building itself needs to hold all that treated air in where it belongs. When there is heat transference going on, the…

Read More

Customer Reviews
---
Everyone at SJHC has been great to our family over the last 12 years. As we are moving, we will make sure the new owner of our home knows that you have been giving us excellent service on our Maintenance and Service Agreements . Best of luck to everyone at SJHC.

---



If you are looking for air cleaners in the South Jersey area, please give us a call at 800-792-2435 or complete our online request form.